by Franz Xaver Kroetz.
With Cecilia Nilsson
Directed by Hedvig Claesson 

Set design & costume : Zofi Nilsson 
Make-up: Janina Rolfart 
Technician: Lena Bergstedt, Magnus Stage Lind Ingras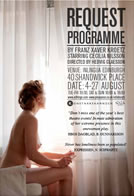 Poster Request Programme







Cecilia Nilsson in Request Programme. Photo: James Glossop


Cecilia Nilsson in Request Programme. Photo: Urban Jörén

This production was originally done at Riksteatern, Sweden in 2006. It toured Sweden with more than 60 performances, and was played in livingrooms of empty apartments around Sweden.

It was invited to the NordWind festival in Berlin in 2007.

SIRIS Original Theatre took over the set in 2010 and in 2011 we decided to take it to the Edinburgh Fringe. It was very well received and we are now looking forward to participating in Edinburgh Fringe 2012.

Miss Rasch returns home from work one evening. She spends the evening doing her household chores; making tea, eating supper, washing up and listening to the radio. It´s her favourite show, "Request Programme", where people ask for music for their loved ones. But who loves her? It seems to be just another ordinary day, filled with acts of somewhat tedious and dull everyday moments, but it isn´t. It´s the day that ends her life.

F X Kroetz wrote this play in Germany in the early 70`s. He wanted to point to the issue of suicide since it was a taboo matter at the time. It was sometimes not even recognized as a cause of death, and this outraged him.
Although many of us have personal experiences of close friends and family who have attempted or even done it, it is still a matter we avoid talking of.

Thus, the importance of addressing it, remains.





by Joyce Carol Oates
worldpremiere 2010
Moira Greary: Cecilia Nilsson, Beatrice Kern: Bo Corre

Directed by Hedvig Claesson

Costume & set design: Zofi Nilsson
Light design: Ellen Ruge
Assistant: Jenny Sperens
Make up artist: Janina Rolfart
Assistant: Hanna Holm
Stage technique: Joakim Ekström
Producer: Katharina Lind
Artistic director: Ture Rangström
Poster: Lennart Claesson



Poster The Widows




Pictures from "The Widows" Photo: Petra Hellberg
Download Program



Fiber-optic and digital media workshop, a collaborative project with Riksteatern,
Strindbergs Intima Teater,Fiber Optic Vallet and Digitala Verktyg, 2010 and 2011.